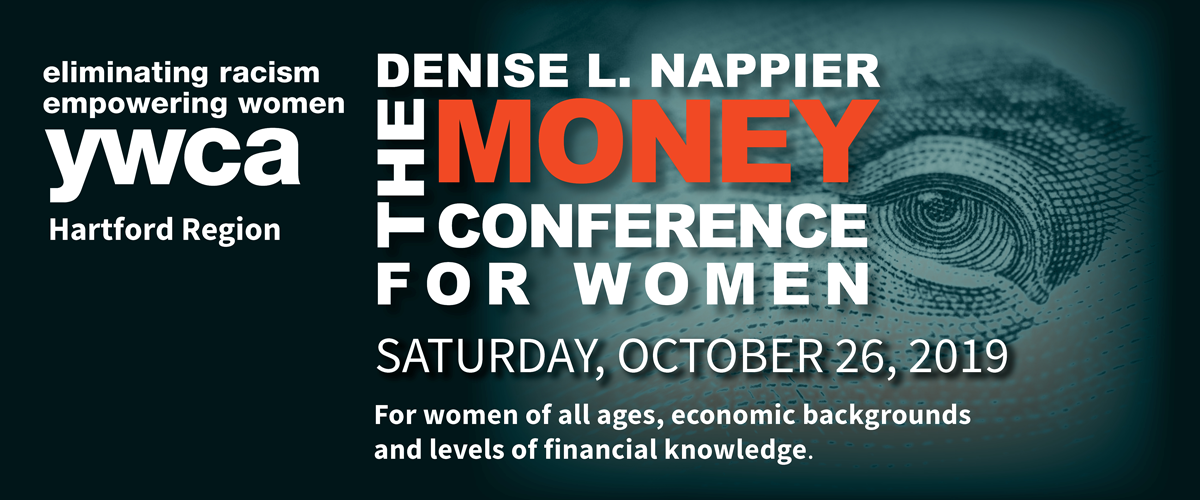 REGISTRATION IS NOW OPEN!
CLICK HERE to reserve your seat.
(Admission is free, but registration is required)
---
About the Conference & Overview
The 2019 Denise L. Nappier Money Conference for Women will be held Saturday, October 26, 2019 at the Marriott Hartford Downtown located at 200 Columbus Blvd., Hartford, CT. Registration for this free event will open the week of September 9, 2019. 
This free conference is brought to you by YWCA Hartford Region in partnership with the Connecticut State Treasurer's office. The conference is designed to address the special challenges women face in their work and personal lives and focuses on money management, investment strategies and retirement planning for women of all ages, economic backgrounds and levels of financial knowledge.
CLICK HERE to download the program agenda and workshop descriptions.

DID YOU KNOW:
Three out of four working women earn less than $30,000 per year

Women earn less and receive half the average pension benefits of men

Women live longer than men, requiring their money to last longer

Women have more sporadic work histories as a result of caring for children or elderly parents

71% of the nation's 4 million elderly poor are women

Women tend to be more intimidated about financial issues, less informed about ways to secure their financial future and are more conservative investors
Program Description:
The conference features recognized leaders in the financial services industry who offer practical advice and tools to help participants design and implement an effective money management strategy.
Financial Focus Workshops:
Following the keynote address, participants attend a Financial Focus Workshop on a topic suited to their life stage and needs. Presenters offer practical tools on a variety of topics.
Financial Expo:
Conference registrants may explore different services provided by various vendors in the financial services industries as well as other services available to women and their families.
---
REGISTRATION IS NOW OPEN!
CLICK HERE to reserve your seat.
(Admission is FREE, but registration is required)