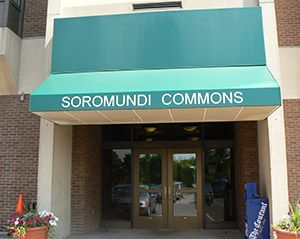 Soromundi Commons is a YWCA Hartford Region housing initiative located in Hartford, Connecticut designed to assist those who have been homeless or are at risk of homelessness move from the street to stability. ln addition to an emergency shelter for women, there are 13 efficiency units for individuals transitioning from homelessness and 35 one-bedroom units of permanent housing. Five of these units are designed to be accessible for individuals with mobility impairments, including individuals who use wheelchairs.
Case management services provided, a community computer and learning center and other onsite resources help to assure that people live more independently and are empowered to lead self-sufficient lives. Konover Residential Services Inc., provides onsite property management.
Emergency Shelter for Women
The emergency shelter for women provides temporary shelter for women experiencing homelessness. An array of services is available onsite and case managers collaborate with clients to address health issues, job readiness and daily living skills. Please call the 211 information line for more information.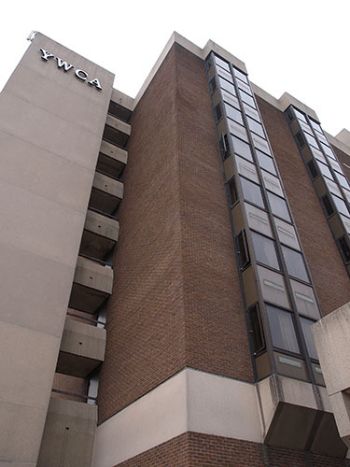 Soromundi Commons Permanent Housing
The 48 apartments are designed to provide affordable housing and support services to eligible households. All eligible households have access to flexible, individualized services as needed and for as long as they are needed, in order to achieve and retain permanent housing, increase skills and income, and achieve greater self-determination.
Project and program eligibility and the Resident Selection Plan are available by contacting Konover Residential Services at(860)727-8094, soromundimgr@konoverresidential.com.
It is the policy of Konover Residential and Soromundi Commons Limited Partnership to promote equal opportunity and non-discrimination in compliance with, but not limited to, the federal and state constitutions and legislative enactments addressing discrimination in housing including, the Fair Housing Act and the Fair Housing Amendments Act of 1988, 42 U.S.C.A. 3601-3620, Section 504 of the Rehabilitation Act of 1973, as amended 29 U.S.C. 794 et seq., The Americans with Disabilities Act of 1990, 42 U.S.C.A. Title VI of the Civil Rights Act of 1964, 42 U.S.C.A â 2000d, the Age Discrimination Act of 1975, 42 U.S.C.A. 33 6101-6107, Executive Order 11063 and relevant Federal, State and local laws prohibiting discrimination in housing. In carrying out resident selection, Konover Residential and Soromundi Commons Limited Partnership will not discriminate on the basis of race, color, religious creed, age, marital status, sex (including pregnancy), national origin, ancestry, familial status, disability, age, sexual orientation, genetic information, lawful source of income (including recipients of Federal rent subsidies pursuant to Section 8 of the United States Housing Act of 1937, as amended or any successor subsidy program), or any other basis prohibited by local, state or federal law in any aspect of resident selection or matters related to continued occupancy.
Privacy Policy Pertaining to the Homeless Management Information System (HMIS)