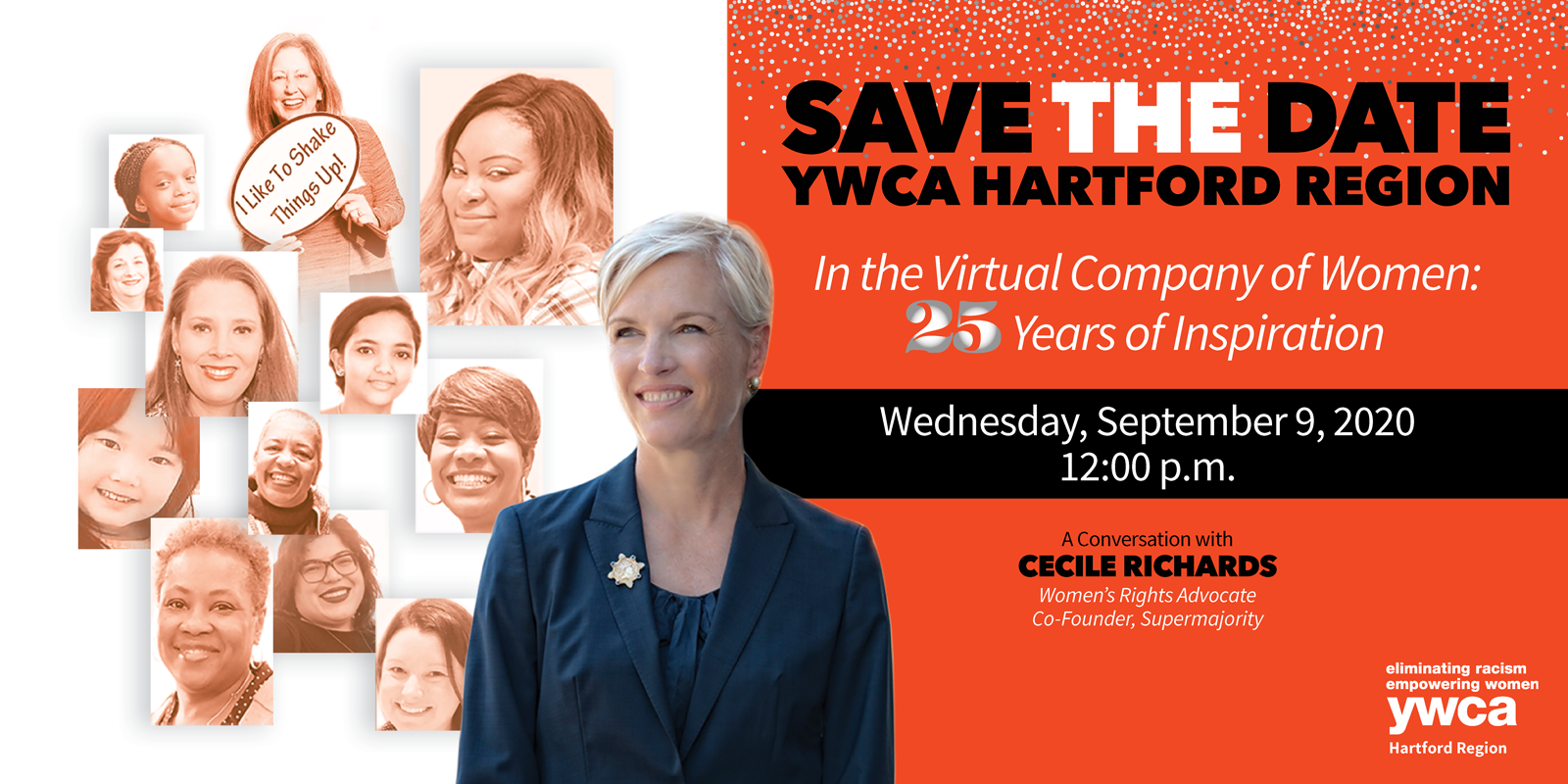 GUIDE TO EVENT SUCCESS!
Hello Everyone!
Thank you for supporting YWCA Hartford Region's In the Virtual Company of Women!  We look forward to seeing all of you on Wednesday, September 9 at 12:00 Noon. We need your help during the event.
Below are a few tips to help make the virtual event a great success!  
Link to join us:
Gather together:
Invite your friends, family, colleagues and clients to create your own virtual table. Invite your guests to a viewing party on platforms, such as Zoom, Google Hangouts, Teams, FaceTime, etc. You can watch the program together as if you were sharing a table at a live event!
Follow us on social media:
Follow YWCA Hartford Region throughout the event. Like, share and comment on posts:
            Twitter: @YWCAHARTFORD
            Facebook, Instagram & LinkedIn: @YWCAHartfordRegion
Be sure to post on your own social media pages too! Wear persimmon and show your support for YWCA Hartford Region! Post selfies and encourage your guests to do the same. Tell your followers why you support YWCA Hartford Region and include the following text to give information to help with the fundraising efforts:
                 To donate, text YWCA2020 to the number 243725
                 Include the following hashtags:
                #YWCAHARTFORD
                #YWCAHartVirtualCo
                #YWCAUnlimited
Sample message:
I choose to support YWCA Hartford Region because I want to make an impact in the lives of women and girls living in my own community. Together, We're Unlimited! #YWCAHARTFORD #YWCAHartVirtualCo #YWCAUnlimited

Have fun!
Every dollar counts and supports programs and services for women, girls and families in our community.
Thank you!  Together, We're Unlimited!!
---
Experiencing trouble?
Try switching Internet browsers or copy and paste this link into your search bar:
https://vimeo.com/454118096/c6e15ddb2a
Viewing Recommendation!
If you received this message through your work e-mail, which is accessed through a remote work server, we highly recommend you copy the link and paste it into an Internet browser on your personal laptop or computer. Watching through a remote server may cause issues with the syncing of video and sound.
Have any questions? Please contact Karol Jimenez, at karolj@ywcahartford.org or call
(860) 525-1163 x 122