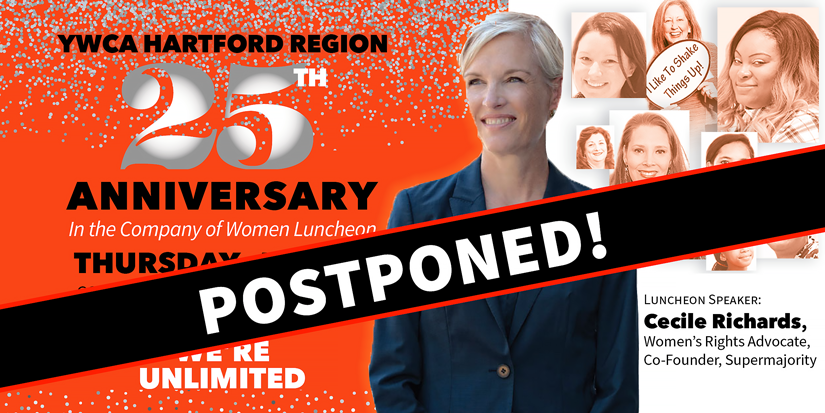 ---
Dear YWCA Family and Friends,
 
The health and safety of our guests is our top priority. To that end, and out of an abundance of caution, YWCA Hartford Region has decided to postpone the In the Company of Women luncheon, originally scheduled for April 9, 2020.  We continue to finalize plans and look forward to celebrating with you in the near future!
We are working diligently with the Connecticut Convention Center and keynote speaker, Cecile Richards to re-schedule our 25th Anniversary luncheon. Once a date has been confirmed, we will share the information.
Thank you for your support and commitment to YWCA Hartford Region.
If you have any questions or concerns, please contact Karol Jimenez at karolj@ywcahartford.org or 860-525-1163, ext. 122.
---
Welcome to YWCA Hartford Region's 25th Anniversary for the In the Company of Women Luncheon!
2020 is an exciting year for women, from marking the 100th Anniversary of women in the United States winning suffrage to celebrating the 25th Anniversary of our signature fundraising event, In the Company of Women.
Please join us as we welcome our keynote speaker, Cecile Richards. Cecile is a national leader for women's rights and social and economic justice, and a co-founder of Supermajority -- a new organization fighting for gender equity. She is the author of The New York Times bestseller, Make Trouble.
The theme for this year's luncheon is Together We're Unlimited. The event has grown to become one of the state's largest networking events, bringing more than 1,500 business, community and nonprofit leaders together to support our mission: eliminating racism and empowering women. It is a mission needed now more than ever!
For more information about sponsorship opportunities, click here.

For more information, please contact the Karol Jimenez in the Development Office at (860) 525-1163 ext. 122, or e-mail karolj@ywcahartford.org.
Click here to see a list of 24 years of distinguished women who have shared their motivational stories in the past.