In the Virtual Company of Women:
25 Years of Inspiration
2020 is an exciting year for women, including the marking of the 100th Anniversary of women in the United States winning suffrage.
We're inviting you to join us virtually for a intimate conversation with Cecile Richards a national leader for women's rights, social and economic justice, and co-founder of Supermajority -- a new organization fighting for gender equity. She is the author of The New York Times bestseller, Make Trouble: Standing Up, Speaking Out, and Finding the Courage to Lead.
The business community, non-profit partners and supporters like you will be gathering online in solidarity to champion our mission of eliminating racism and empowering women. It is a mission needed now more than ever. Together We're Unlimited!
For questions, or more information about sponsorship opportunities for 2021, contact Karol Jimenez, Manager of Events & Fundraising at (860) 525-1163 ext. 122, or e-mail karolj@ywcahartford.org.

Governor Lamont Proclaims September 9 YWCA Hartford Region Day
In honor of the 25th Anniversary of YWCA Hartford Region's In the Company of Women,
Governor Ned Lamont signed this proclamation:
WHEREAS, YWCA Hartford Region is dedicated to eliminating racism, empowering women
and promoting peace, justice, freedom and dignity for all; and

WHEREAS, YWCA Hartford Region serves nearly 2,000 people annually from the greater
Hartford area by providing programs that address the needs of community members
every stage of their lives; and

WHEREAS, their programs put their mission of eliminating racism and empowering
women into action throughlearning childcare, emergency and permanent supportive housing,
youth leadership development, racial justice awareness,financial literacy
education, and economic stability for women and families; and
WHEREAS, the YWCA Hartford Region is committed to creating opportunities
one woman at a time; and

WHEREAS, it is for those reasons that we pause, reflect and celebrate the
YWCA's 25th anniversary; now

THEREFORE, I, Ned Lamont, Governor of the State of Connecticut, I recognition
of the YWCA Hartford Region's 25 years of inspiration and for their unwavering fight for
social justice and gender equity, do hereby officially proclaim September 9, 2020
as YWCA Hartford Region Day in the State of Connecticut.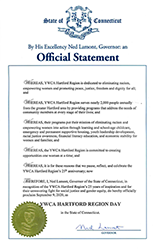 NBC Connecticut Anchor Keisha Grant helps spread the word about
YWCA Hartford Region's upcoming In the Virtual Company of Women: 25 Years of Inspiration!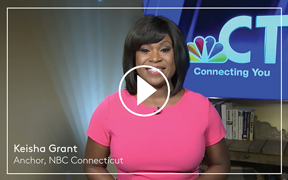 THIS EVENT IS MADE POSSIBLE WITH SUPPORT FROM THE FOLLOWING SPONSORS: