Week Without Violence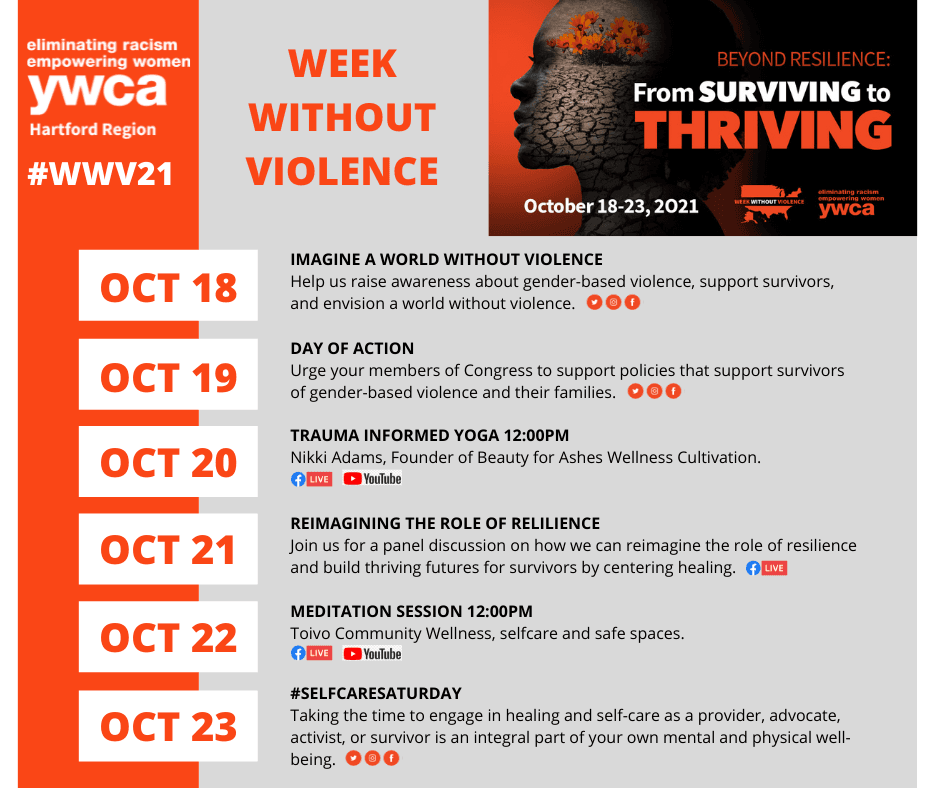 Week Without Violence is part of a global movement with YWCAs across the country and around the world to end violence against women and girls. At YWCA, we know that not all violence is acknowledged or responded to equally and that some victims go unrecognized altogether. That's why, for more than 20 years, YWCA has set aside one week in October as a Week Without Violence. This year, we invite you to join us from October 18 – 23, to share information and stories, advocate, with a common goal in mind: together, we can end gender-based violence. 
This year, our Week Without Violence Campaign centers around the theme: Beyond Resilience: From Surviving to Thriving! We will be centering healing, and renewing our collective commitment to addressing domestic and systemic violence as well as the root causes of trauma that feed into the cycle of harm. Join us during our annual Week Without Violence as we do the work to raise awareness and advocate for the accessible, effective, and consistent resources that survivors and communities need to build the flourishing futures they deserve.
Together we can build a world where women, girls, and communities of color are empowered and supported to move beyond resilience, from surviving to thriving.
For more information on how to participate follow us on Facebook, Instagram and Twitter and watch your email for more updates.
Resources
CTSafeConnect
Survivors of domestic violence or anyone looking for guidance on how to help someone else can visit CTSafeConnect.org 24/7 and connect with an advocate via call, text, live chat or email. Connecticut's 169 cities and towns.One domestic violence resource hub.
VISIT:  CTSafeConnect.org 
EMAIL: safeconnect@ctcadv.org
Call or TEXT:  (888) 774-2900 
Live CHAT in your language: 24/7/365

All services are CONFIDENTIAL, SAFE, FREE & VOLUNTARY.
Hartford Interval House (IH) is a dedicated and passionate group of staff, board members and volunteers who pride themselves on tirelessly working to end domestic violence.

Connecticut Coalition Against Domestic Violence is Connecticut's leading voice for victims of domestic violence and those agencies that serve them. A membership organization of Connecticut's 18 domestic violence service agencies that provide critical support to victims including safety planning, emergency shelter, court advocacy, counseling and support groups, among other services.
Week Without Violence Video Series
Domestic Violence, Myth vs Fact: Discover some statistics and information around the everyday impact of Domestic Violence in the United States.

What you need to know about police interventions during domestic violence disputes.

What you need to know about DCF interventions for families struggling with domestic violence.

A look at the evolution of Domestic Violence systems, supports, and resources in Connecticut.

A Survivor's Story told through Art: A survivor's story interspersed with a virtual art gallery of domestic violence by editorial illustration students from the University of Hartford.
Behind Closed Doors, A University of Hartford Editorial Illustration Project
Breaking The Silence by University of Hartford's Editorial Illustration Class