Week Without Violence
Week Without Violence is part of a global movement with YWCAs across the country and around the world to end violence against women and girls. At YWCA, we know that not all violence is acknowledged or responded to equally and that some victims go unrecognized altogether. That's why, for more than 20 years, YWCA has set aside one week in October as a Week Without Violence to share information and stories, advocate, with a common goal in mind: together, we can end gender-based violence. 
During our annual Week Without Violence we do the work to raise awareness and advocate for the accessible, effective, and consistent resources that survivors and communities need to build the flourishing futures they deserve.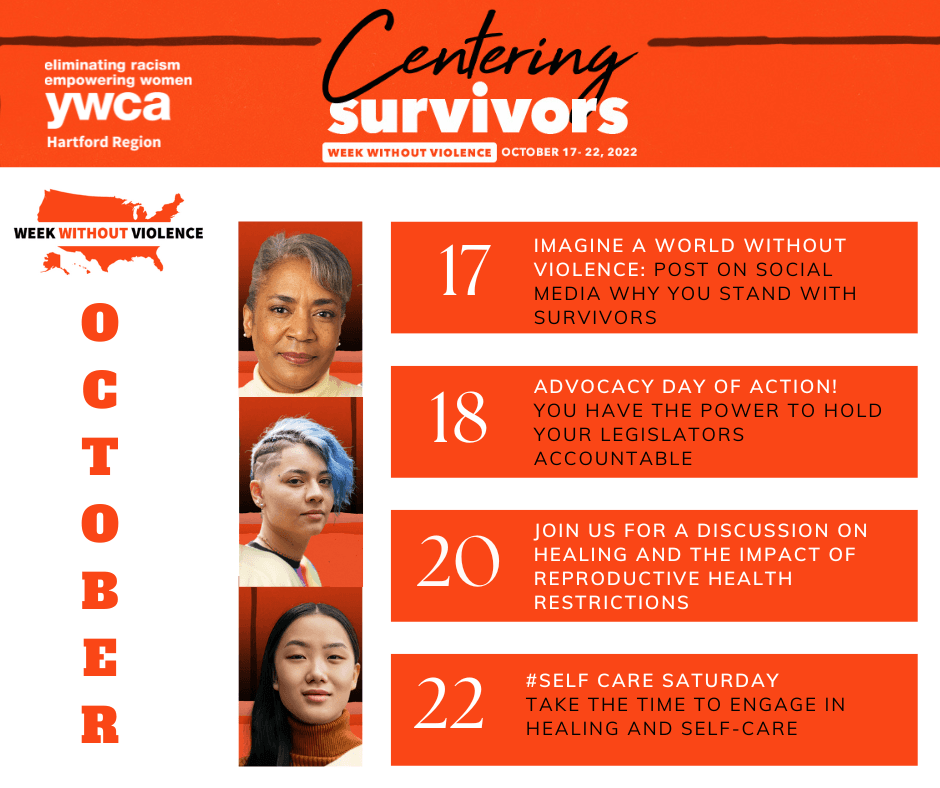 2022 Week Without Violence: Centering Survivors
Thank you to those who were able to join us for our Week Without Violence Healing and the Impact of Reproductive Health Restrictions event on October 20. This informative session presented by Dr. Lucinda Canty of Lucinda's House was centered on reproductive bereavement support services and therapeutic healing.  We also heard updates from, Pro Choice CT State Director, Liz Gustafson, on where Connecticut stands on Reproductive Rights.
Resources
CTSafeConnect
Survivors of domestic violence or anyone looking for guidance on how to help someone else can visit CTSafeConnect.org 24/7 and connect with an advocate via call, text, live chat or email. Connecticut's 169 cities and towns.One domestic violence resource hub.
VISIT:  CTSafeConnect.org 
EMAIL: safeconnect@ctcadv.org
Call or TEXT:  (888) 774-2900 
Live CHAT in your language: 24/7/365

All services are CONFIDENTIAL, SAFE, FREE & VOLUNTARY.
Hartford Interval House (IH) is a dedicated and passionate group of staff, board members and volunteers who pride themselves on tirelessly working to end domestic violence.

Connecticut Coalition Against Domestic Violence is Connecticut's leading voice for victims of domestic violence and those agencies that serve them. A membership organization of Connecticut's 18 domestic violence service agencies that provide critical support to victims including safety planning, emergency shelter, court advocacy, counseling and support groups, among other services.

Abortion Access Resources and Support
2021 Week Without Violence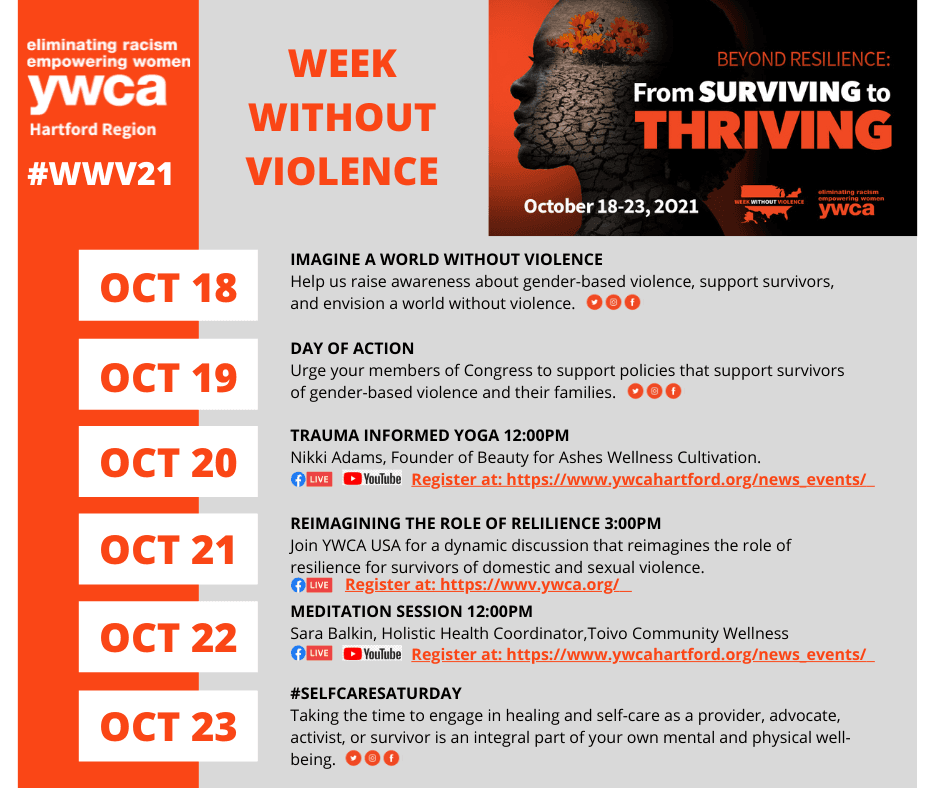 2021 Week Without Violence: #WWW21
In 2021 our Week Without Violence Campaign ran from October 18th - October 23rd with the theme centered on: Beyond Resilience: From Surviving to Thriving! Together we can build a world where women, girls, and communities of color are empowered and supported to move beyond resilience, from surviving to thriving. 
Where do Your Elected Officials Stand? Urge your members of Congress to support policies that support survivors of gender-based violence and their families. Call on your legislators to express the importance of supporting the Family Violence Prevention Services Act and the resolution to Declare Racism a Public Health Crisis.
Trauma Informed Yoga: Nikki Adams, founder of Beauty for Ashes Wellness Cultivation lead a virtual trauma-informed yoga session:
View Here: https://www.youtube.com/watch?v=rBZQWmIOfFo
Reimagining the Role of Resilience: YWCA USA discussion that reimagines the role of resilience for survivors of domestic and sexual violence. By centering healing – including replenishment, rest, and recovery – and addressing the root causes of trauma and systemic violence, we can both disrupt the cycle of harm and open pathways for survivors to build thriving futures for themselves and their families. 
Watch the Town Hall Event: https://www.facebook.com/ywca.org/videos/307120480843671
Meditation: Sara Balkun, Holistic Health Coordinator at Toivo Center lead us on a meditation and shares tools of breath, movement and mindfulness that empowers and creates whole body healing.
View Here: https://www.youtube.com/watch?v=fuqWjhAuLiU
#SELFCARESATURDAY: Taking the time to engage in healing and self-care as a provider, advocate, activist, or survivor is an integral part of your own mental and physical well-being and will help make you an even more powerful advocate for your causes and clients.
Take time for yourself with this self-care video: https://www.youtube.com/watch?v=81MJh8JjfMI 
2020 Week Without Violence Video Series
Domestic Violence, Myth vs Fact: Discover some statistics and information around the everyday impact of Domestic Violence in the United States.

What you need to know about police interventions during domestic violence disputes.

What you need to know about DCF interventions for families struggling with domestic violence.

A look at the evolution of Domestic Violence systems, supports, and resources in Connecticut.

A Survivor's Story told through Art: A survivor's story interspersed with a virtual art gallery of domestic violence by editorial illustration students from the University of Hartford.
Behind Closed Doors, A University of Hartford Editorial Illustration Project
Breaking The Silence by University of Hartford's Editorial Illustration Class