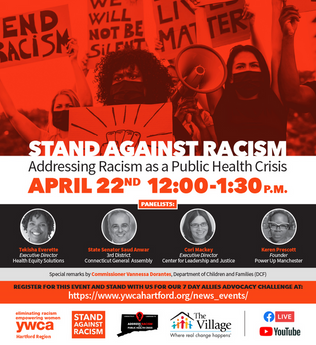 The past year has been tumultuous as our nation has been confronted with the undeniable reality that we are facing dual pandemics in the form of COVID-19 and Racism. YWCA Hartford Region invites you to take a stand with us during our annual Stand Against Racism Thursday, April 22, 2021. Each year YWCA's around the country take time in April to bring awareness on the issue of racism in our nation.  This year the subtheme is "Addressing Racism as a Public Health Crisis". By stepping into this space together we can address the issue by shining a spotlight on racial disparity and the impact on the health and well-being of individuals and families of color. Our virtual event will include a dynamic panel which will speak to the actions taking place in our state to Address Racism as a Public Health Crisis: State Senator Dr. Saud Anwar; Tekisha Everette, Executive Director, Health Equity Solutions; Cori Mackey, Executive Director, Center for Leadership and Justice; Keren Prescott, Founder, Power Up Manchester. The event will also premier a video created in collaboration with The Village for Families and Children portraying the impact of systemic racism on families of color.
Please register for both events here: https://www.ywcahartford.org/news_events/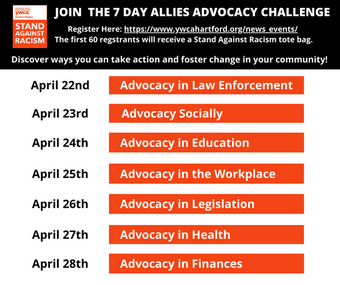 STAND AGAINST RACISM 7 Day Challenge
As part of our Stand Against Racism initiative we will be launching our 7 Day Allies Advocacy Challenge. Through this challenge we will encourage community members to use their voice to shine a light on inequality, spark dialogue, engage and step in as allies for vulnerable groups. For each of the 7 days we will provide steps community members can take to grow while creating change in their community.  The 7 day challenge is an expansion of the Allies guide to advocacy webinar which took place on March 19th https://www.ywcahartford.org/advocacy/ally-guide-for-advocacy.html
Please register for both events here: https://www.ywcahartford.org/news_events/
Create a Community Without Racism
YWCA Hartford Region is on a mission to eliminate racism. The only way to succeed is to work together throughout the community to fight for racial and social justice and stand together against systemic racism. Blatant and subtle forms of racism and bigotry have no place in our society. YWCA Hartford Region is committed to ensuring human decency and respect prevail. Our vision is to create unlimited opportunities in our community. Opportunities that instill racial, social and gender equity in all we do.
 
Systemic racism is a driving force in social determinants within the black and brown community and a leading barrier to public health, economic and educational opportunities. In order to achieve equity, we must address injustices caused by racism and support actions at all levels to ensure equal opportunity for all.
Please join us TODAY! Take the pledge to end systemic racism in our community.
YWCA HARTFORD REGION PLEDGE
I understand the ongoing harm caused by racism in my community. I will no longer stay silent and pledge to do the following:
Reduce racial inequities by supporting public policy solutions that promote racial and social equity in all aspects of life (health, economic, employment and education).
Educate myself and commit to ongoing education on the ways racial inequity impacts people of color in my community; participate in helping to combat systemic racism.
Talk about it. Challenge and correct racist ideas, actions and behaviors, even if means having uncomfortable and difficult conversations.
Support YWCA Hartford Region's advocacy agenda, which focuses on ensuring public policy changes aimed at equity across a broad range of issues, including economic, health, education, and racial and social justice. To learn more about our 2020 Advocacy Priorities, visit: www.ywcahartford.org.
Sign up and stay connected with YWCA Hartford Region. Add me to your mailing list to learn more about the issues and how I can help advocate and stand against racism.