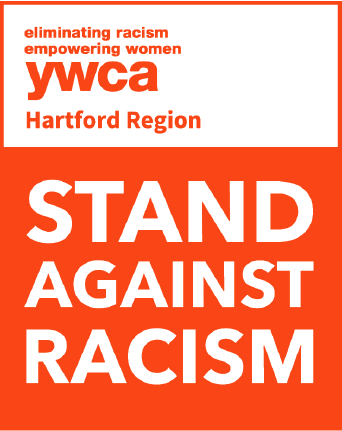 What is Stand Against Racism™?
Stand Against Racism™ is a movement of YWCA which brings together like-minded organizations that share in our vision of eliminating racism and celebrating the richness of diversity. By inviting community organizations to partner with us, we expand the impact of this vision, attracting hundreds of thousands of participants.
The annual Stand Against Racism™ , which takes place the last week of April, encourages conversations across diverse communities in the USA.
Imagine...
The power of our unity throughout the country as we raise our collective voices to rid our society from the plague of racism; and until the day when racism is eliminated, we have a lot of work ahead of us!
YWCA Hartford Region invites you to take a stance with us during our annual Stand Against Racism.  Each year YWCA's around the country take the last weekend in April to bring awareness on the issue of racism in our nation.  
Voting rights, Census participation and Civic Engagement are, and have always been, core components of racial justice. As civil rights continue to be eroded for communities of color, it is more important than ever to support full access and engagement for marginalized communities, especially women and girls of color, in the political process. #YWomenvote. To read more about YWomenvote and download the report click here.
We believe that together we can make an impact that will shift our culture for generations to come. 
Create a Community Without Racism
YWCA Hartford Region is on a mission to eliminate racism. The only way to succeed is to work together throughout the community to fight for racial and social justice and stand together against systemic racism. Blatant and subtle forms of racism and bigotry have no place in our society. YWCA Hartford Region is committed to ensuring human decency and respect prevail. Our vision is to create unlimited opportunities in our community. Opportunities that instill racial, social and gender equity in all we do.
 
Systemic racism is a driving force in social determinants within the black and brown community and a leading barrier to public health, economic and educational opportunities. In order to achieve equity, we must address injustices caused by racism and support actions at all levels to ensure equal opportunity for all.
Please join us TODAY! Take the pledge to end systemic racism in our community.
YWCA HARTFORD REGION PLEDGE
I understand the ongoing harm caused by racism in my community. I will no longer stay silent and pledge to do the following:
Reduce racial inequities by supporting public policy solutions that promote racial and social equity in all aspects of life (health, economic, employment and education).
Educate myself and commit to ongoing education on the ways racial inequity impacts people of color in my community; participate in helping to combat systemic racism.
Talk about it. Challenge and correct racist ideas, actions and behaviors, even if means having uncomfortable and difficult conversations.
Support YWCA Hartford Region's advocacy agenda, which focuses on ensuring public policy changes aimed at equity across a broad range of issues, including economic, health, education, and racial and social justice. To learn more about our 2020 Advocacy Priorities, visit: www.ywcahartford.org.
Sign up and stay connected with YWCA Hartford Region. Add me to your mailing list to learn more about the issues and how I can help advocate and stand against racism.