2022 STAND AGAINST RACISM
2022 Stand Against Racism: We Can't Wait Equity and Justice Now!
Thank you to all those that attended (in person or virtually) our Stand Against Racism, We Can't Wait: Equity and Justice Now event on April 28. If you missed it please view here: https://www.youtube.com/watch?v=wFlxFf7Ntn8 ; https://www.youtube.com/watch?v=5bPIfL3NvYA
Thank you to our community partners EveryDay Democracy, Re Center and Metro Hartford Alliance. Special thanks to our sponsor Day Pitney, our workshop provider ActUp Theater and catering by Taste of Decadence. 
We hope this session empowered you to support racial justice in your community. We encourage you to use the information that was presented to confront systemic racism in your community. We must work collectively to root out inequity in our communities and in the institutions that compose our society, and demand justice and equity. Our collective efforts can root out injustice, transform institutions, and create a world that sees women, girls, and people of color the way we do: Equal. Powerful. Unstoppable.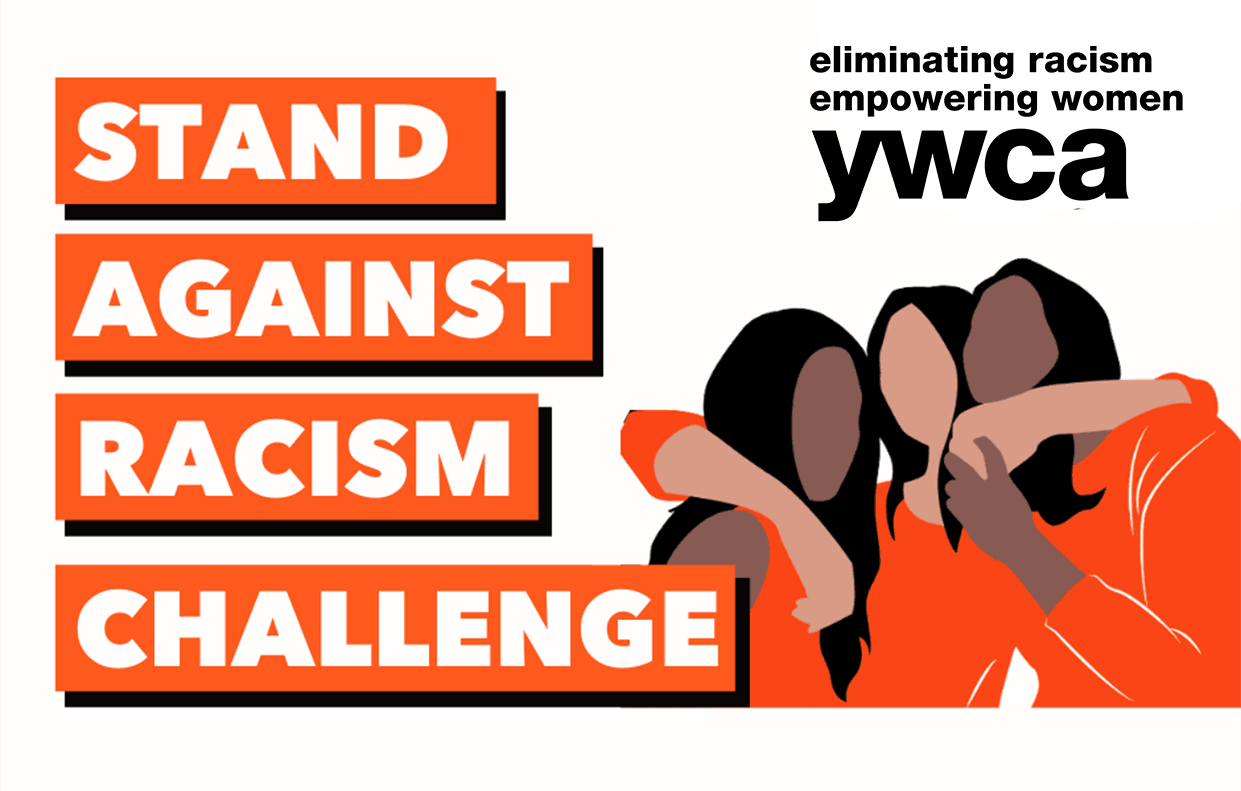 STAND AGAINST RACISM 21 Day Challenge
Join YWCA USA for the Stand Against Racism Challenge, April 4th through May 2nd. The Stand Against Racism Challenge is designed to create dedicated time and space to build more effective social justice habits, particularly those dealing with issues of race, power, privilege, and leadership. 
You will be presented with challenges such as reading an article, listening to a podcast, reflecting on personal experience and more. Participation in an activity like this helps us to discover how racial injustice and social injustice impact our community, to connect with one another, and to identify ways to dismantle racism and other forms of discrimination. This is an exciting opportunity to dive deep into racial equity and social justice.
YWCA Hartford Region wants to thank and acknowledge Dr. Eddie Moore Jr., Debby Irving, and Dr. Marguerite Penick for their leadership in the field of racial equity as exhibited in their 21 Day Racial Equity and Habit Building Challenge and the movement they helped to initiate. YWCA's content is independently designed, written, and curated by YWCA staff as part of racial equity and social justice programs offered to the community.
WE ENCOURAGE YOU TO TAKE THE CHALLENGE!
When you register, under Where did you hear about the Stand Against Racism Challenge, select Other and enter YWCA Hartford Region.
---
Create a Community Without Racism
YWCA Hartford Region is on a mission to eliminate racism. The only way to succeed is to work together throughout the community to fight for racial and social justice and stand together against systemic racism. Blatant and subtle forms of racism and bigotry have no place in our society. YWCA Hartford Region is committed to ensuring human decency and respect prevail. Our vision is to create unlimited opportunities in our community. Opportunities that instill racial, social and gender equity in all we do.
 
Systemic racism is a driving force in social determinants within the black and brown community and a leading barrier to public health, economic and educational opportunities. In order to achieve equity, we must address injustices caused by racism and support actions at all levels to ensure equal opportunity for all.
Please join us TODAY! Take the pledge to end systemic racism in our community.
YWCA HARTFORD REGION PLEDGE
I understand the ongoing harm caused by racism in my community. I will no longer stay silent and pledge to do the following:
Reduce racial inequities by supporting public policy solutions that promote racial and social equity in all aspects of life (health, economic, employment and education).
Educate myself and commit to ongoing education on the ways racial inequity impacts people of color in my community; participate in helping to combat systemic racism.
Talk about it. Challenge and correct racist ideas, actions and behaviors, even if means having uncomfortable and difficult conversations.
Support YWCA Hartford Region's advocacy agenda, which focuses on ensuring public policy changes aimed at equity across a broad range of issues, including economic, health, education, and racial and social justice. To learn more about our 2020 Advocacy Priorities, visit: www.ywcahartford.org.
Sign up and stay connected with YWCA Hartford Region. Add me to your mailing list to learn more about the issues and how I can help advocate and stand against racism.