Create a Community Without Racism
Racism as a Public Health Crisis:
Declaring racism as a public health crisis in Connecticut was an important first step in the movement to advance racial equity and justice.  YWCA Hartford Region proudly stood alongside statewide partners, allies and community champions calling for our state leaders to address racism as a public health crisis through declaration and transformative legislation. You helped for the push to pass Senate Bill 1, below is how this bill addresses racism as a public health crisis.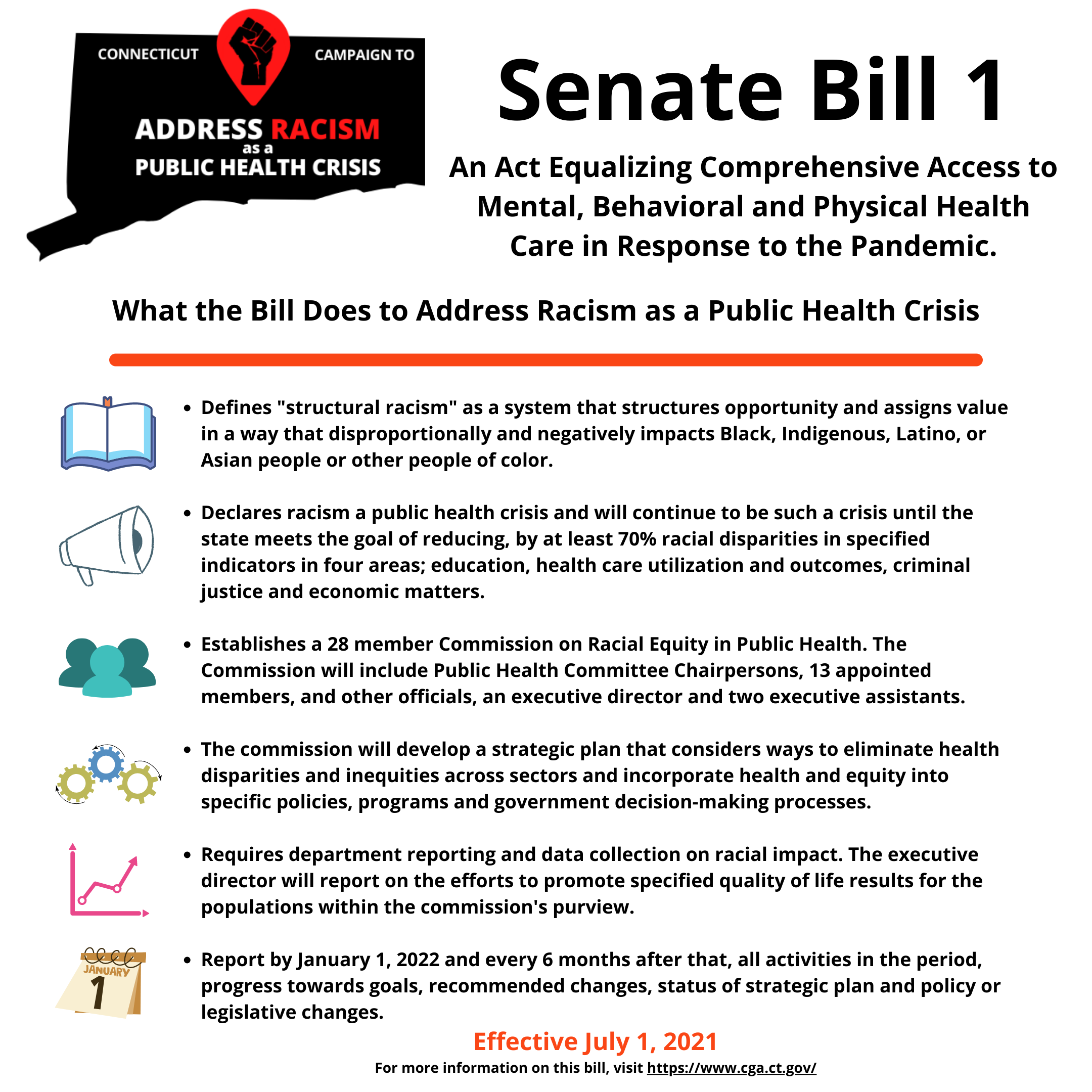 Racism As A Public Health Crisis
On June 3, 2020, more than 350 vehicles joined YWCA Hartford Region in a symbolic funeral procession that started at Hopeweill Baptist Church in Windsor before ending at the state Capitol. At the Capitol, a memorial service was held for George Floyd and far too many others who came before him. The community came together in peaceful protest to address the original pandemic afflicting the nation: systemic racism.

Addressing the crowd, Adrienne Cochrane, Chief Executive Officer, stated "We can't talk about gender equity without talking about race. We understand it's uncomfortable, but our job is not to make you comfortable. Our job is to make us all accountable and to talk about it. This is part of a beginning, a re-set for our community, the state and the country."
View Adrienne's full remarks at this peaceful protest here:
YWCA Hartford Region is on a mission to eliminate racism.

The only way to succeed is to work together throughout the community to fight for racial and social justice and stand together against systemic racism. Blatant and subtle forms of racism and bigotry have no place in our society. YWCA Hartford Region is committed to ensuring human decency and respect prevail. Our vision is to create unlimited opportunities in our community. Opportunities that instill racial, social and gender equity in all we do.
 
Systemic racism is a driving force in social determinants within the black and brown community and a leading barrier to public health, economic and educational opportunities. In order to achieve equity, we must address injustices caused by racism and support actions at all levels to ensure equal opportunity for all.
Please join us TODAY! Take the pledge to end systemic racism in our community.
YWCA HARTFORD REGION PLEDGE
I understand the ongoing harm caused by racism in my community. I will no longer stay silent and pledge to do the following:
Reduce racial inequities by supporting public policy solutions that promote racial and social equity in all aspects of life (health, economic, employment and education).
 
Educate myself and commit to ongoing education on the ways racial inequity impacts people of color in my community; participate in helping to combat systemic racism.
 
Talk about it. Challenge and correct racist ideas, actions and behaviors, even if means having uncomfortable and difficult conversations.
 
Support YWCA Hartford Region's advocacy agenda, which focuses on ensuring public policy changes aimed at equity across a broad range of issues, including economic, health, education, and racial and social justice. To learn more about our 2022 Advocacy Priorities, visit: www.ywcahartford.org.
 
Sign up and stay connected with YWCA Hartford Region. Add me to your mailing list to learn more about the issues and how I can help advocate and stand against racism.
Take the Pledge