Community Matters Resources
On this page, you will find the resources provided by our guest speakers at YWCA Hartford Region's Community Matters events, as well as additional resources dealing with those topics. When possible, we have added audio/visual components such as Powerpoints, slides, or videos of the event itself.
COVID-19 Vaccinations (February 25, 2021)
For Information on COVID-19 in Connecticut: 
Connecticut's COVID-19 Response: https://portal.ct.gov/coronavirus
The CDC's Reccomendations: https://www.cdc.gov/
Charter Oak Health Center: http://thecharteroak.org/covid-19/
Saint Francis Hospital: https://www.trinityhealthofne.org/find-a-service-or-specialty/covid-19/schedule-your-vaccine
UCONN Health: https://health.uconn.edu/coronavirus/covid-vaccine/
Labor Trafficking (July 9, 2020)
Take this Survey to see how your daily buying power may be impacting the Slavery Footprint.
The 2019 Human Trafficking Hotline stats are now officially published on the NHTH website.  
The Now we Know video explaining the typology
The report Human Trafficking at Home: Labor Trafficking of Domestic Workers.
The report The Latino Face of Human Trafficking and Exploitation in the United States
The report On-Ramps, Intersections, and Exit Routes: A Road map for Systems and Industries to Prevent and Disrupt Human Trafficking.This report highlights the way industries can make fundamental shifts to their systems to prevent, detect, and disrupt human trafficking.
The report Human Trafficking on Temporary Work Visas: A Data Analysis 2015-2017. This report analyzes data from the National Human Trafficking Hotline and spotlights how human traffickers are weaponizing structural flaws within the temporary work visa system.
Blog with Essential Resources During the COVID-19 Pandemic.
Doulas 4 Connecticut Coalition (February 11, 2020)
YWCA Hartford Region and Doulas 4 Connecticut Coalition present a community conversation on Doula care and the benefits of maternal outcomes.
Earth's Natural Touch: Birth Care & Beyond on Instagram
These Doulas Are Delivering Support For Black Mothers | HuffPost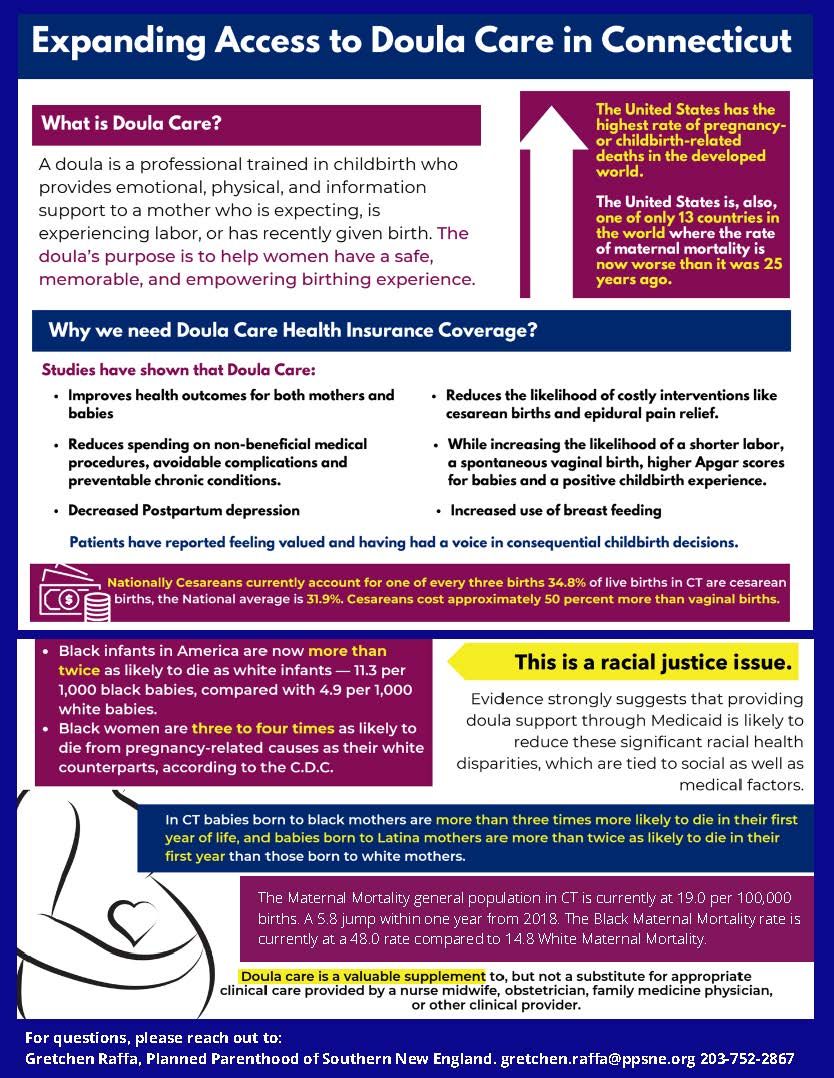 Breaking the Silence: The Impact of Human Trafficking on Girls of Color (September 30, 2019)
Join YWCA Hartford Region in partnership with United State of Women and The Village for Families and Children as we explore the impact of of human trafficking on girls of color and break the silence on this underground issue.
Participants will:
Engage in dialogue on how domestic human trafficking is effecting their communities
Explore scenarios that debunk the myths surrounding the issue and dismantle victim blaming
Learn about tools and resources available to equip communities to address human trafficking on a local level
A dynamic panel of experts will shed light on the vulnerabilities of girls of color, the signs of human trafficking and so much more. We encourage high school and middle school youth, their families and community supports to come and become informed on the issue because we know that awareness is the first step in arming our communities to combat human trafficking.
A Critical Conversation with:
Yvette Young, Human Anti-Trafficking Response Team Coordinator, The Village for Families & Children
Erin Williamson, U.S. Programs Director Love146
O'Shaya Johnson, Coordinator of Women and Girls Programs, YWCA Hartford Region
Christopher Bidorini, Social Worker, Department of Children & Families, State of Connecticut
Moderated by Kristen Clark, Coordinator of Governor's Task Force on Justice for Abused Children, The Village for Families & Children
Disparity of Discipline for Girls of Color Part 2 (March 28, 2018)
A panel discussion about school push-out and the narrative surrounding status offenses and structural discrimination for young women of color and about steps towards solutions. 
Panelists featured:
Subira Gordon, Executive Director of the Commission on Equity and Opportunity
Mario Florez, Director of School Climate and Culture at Hartford Public Schools
Leon Smith, Esq., Director of The Racial Justice Project at the Center for Children's Advocacy
Cheryl Sharp, Esq., Deputy Director of The Commission on Human Rights and Opportunities
Moderator:
Jaleith Gary, Director of Philanthropy, Urban Alliance
PowerPoint created by Mario Florez
---
Disparity of Discipline for Girls of Color (January 24, 2018)
A panel discussion generating awareness of the gendered consequences of disciplinary and push-out policies for girls of color and how this leads to underachievement and criminalization. 

Panelists featured: 
Stephanie Milan, Associate Professor of Psychology at the UCONN Center for the Study of Culture, Health, and Human Development
Terrell Hill, Assistant Superintendent for Human Resources, Windsor Public Schools
Eboné Daire, High School Senior at Metropolitan Learning Center, Bloomfield
Jada Harrison,  High School Senior at Metropolitan Learning Center, Bloomfield

Moderator: 
Chion Wolf, producer and announcer, WNPR in Hartford, CT
Eduardo Bonilla-Silva's acclaimed Racism without Racists documents how, beneath our contemporary conversation about race, there lies a full-blown arsenal of arguments, phrases, and stories that whites use to account for—and ultimately justify—racial inequalities. The fifth edition of this provocative book makes clear that color blind racism is as insidious now as ever. It features new material on our current racial climate, including the Black Lives Matter movement; a significantly revised chapter that examines the Obama presidency, the 2016 election, and Trump's presidency; and a new chapter addressing what readers can do to confront racism—both personally and on a larger structural level.

In The American Non-Dilemma, sociologist Nancy DiTomaso convincingly argues that America's enduring racial divide is sustained more by whites' preferential treatment of members of their own social networks than by overt racial discrimination. Drawing on research from sociology, political science, history, and psychology, as well as her own interviews with a cross-section of non-Hispanic whites, DiTomaso provides a comprehensive examination of the persistence of racial inequality in the post-Civil Rights era and how it plays out in today's economic and political context.

Giving an overview of Connecticut public education at a glance, this state-run site provides accountability for school districts and administrators in each school district.

Co-developed by the Center for Intersectionality and Social Policy Studies and the African American Policy Forum

Girlhood Interrupted: The Erasure of Black Girls' Childhood
Created by Rebecca Epstein, Jamilia Blake, Thalia González
Center on Poverty and Inequality
Georgetown Law