Community Matters: timely conversations that bring us together. Community Matters began in 2015 creating a place for conversation and community involvement in key issues that impact the quality of life for our families, neighborhood and community. These events, panel discussions and workshops are held at YWCA Hartford Region and are free to the public, just visit www.ywcahartford.org. Together we have the opportunity to advocate and advance social justice, equality and dignity within our community.
Community Matters Resources
On this page, you will find the resources provided by our guest speakers at YWCA Hartford Region's Community Matters events, as well as additional resources dealing with those topics. When possible, we have added audio/visual components such as Powerpoints, slides, or videos of the event itself.
Women in Faith Leadership (September 1, 2022)
We would like to thank all that participated in our Community Matters: FAITH (Faith Action in Transforming Hartford).  Sharing your experience and perspective during the event was such a valuable contribution to the conversation.
Your support helped us highlight the value in coming together to discuss the needs of communities and necessary collective transformation and also to share strategies to build solutions that address the gaps and needs for families in our community.
Your participation in our work helps us fulfill our mission: to eliminate racism, empower women, and promote, peace, justice, freedom and dignity for all.
Equity Isn't A Game: Women and Girls in Sports (June 1, 2022)
YWCA Hartford Region in collaboration with Hartford Yard Goats Foundation brought part two of the series, Equity Isn't A Game: Women and Girls in Sports. This Community Matters event was crafted to uplift and empower participants in various intersectional aspects.
Thank you so very much to our amazing panel for being a part of Equity Isn't A Game- Women and Girls in Sports.  Volley Ball Coach- LA'Tosha Woodard- Windsor High School; Dr. Dayeshell P. Muhammad- Director of Operations- My People Clinical Services; Monique Biggs- Founder, Legacy Lacrosse/Assistant Director, The Hartford and Rianna Travaglini- Club Trainer- Hartford Boxing Club.
The panel discussed the multifaceted disparities women in sports face and the lack of exposure in occupying roles in sports-related fields. The panelists also highlighted the importance of self-advocacy in male-dominated spaces, Title IV and creating a gender inclusive culture in sports.
This year marks the 50th anniversary of Title IX. We recognize that women and girls are marginalized in this sports industry and as a result often do not see enough examples of women succeeding within this arena. 
Participants from Bloomfield High School, Windsor High School, University High School, Conrad High School, Milner Middle School and Weaver High School, take away from today's event; tools to challenge societal norms within the sports field; resources for their professional development; self-advocacy skills; new connections and swag!
To view clips of the event visit our Facebook page: https://www.facebook.com/YWCAHartfordRegion/videos/389995369732527
6/1/2022 Equity Isn't A Game: Women and Girls in Sports
Equity Isn't A Game Women and Girls in Sports (November 1st - 22nd, 2021)
We would like to thank everyone that participated in our Equity Isn't A Game, Women and Girls in Sports Listening Sessions. This experience was designed to uncover issues of inequity that women and girls in sports face and the effect on their mental health.
During each session participants:
Were encouraged and informed by a woman leading in the sports industry who shared their story and answered questions.
Heard from a dynamic panel of individuals as they responded to quotes from famous women in sports illuminating the layered causes and effects of racial and gender inequity in the industry.
Discovered new coping mechanisms and mental wellness strategies to combat stress and other emotional and mental health barriers.
Thank you to those that shared their story. The content of these stories will helped YWCA Hartford Region evaluate the inequities present in the sports industry and informed the development of our community engagement and advocacy initiatives, including our 2022 legislative and advocacy agenda. Using this information we will explore the systemic roots of the inequities described by participants and seek solutions through proposed legislative policy and other forms of advocacy.
Below please find Mental Health Resources from the series and videos of each session.
Equity Isn't A Game Videos
Dispelling Myths: Critical Race Theory and Talking About Racism (September 22, 2021)
Critical Race Theory (CRT) has become an emotionally and politically charged term. It has catalyzed some state legislature to oppose it, pitted community residents against each other, and forced racial justice advocates to defend its merits. But why? How has a decades old academic framework designed to help scholars understand how racism and systemic oppression persist in the U.S. become a lightning rod?
Thank you to all who were able to attend our statewide event entitled, Dispelling Myths: Critical Race Theory & Talking about Racism. Our outstanding panelists shared research, counternarratives, and data about the importance of talking about race and addressing racism in schools and other organizational settings for the good of children and our social cohesiveness.
Below, you will find the post-event toolkit, which includes event materials and resources to support continued learning and action.
Post-Event Materials:
Resources:
Race & Racism
Critical Race Theory
Talking with Children about Race & Racism
Adults Delay Conversations about Race Because They Underestimate Children's Processing of Race, Source: Journal of Experimental Psychology: General - Sullivan, J., Wilton, L., & Apfelbaum, E. P. (2020)
PBS KIDS Talk About Race & Racism (Watch), Source: PBS KIDS
Talking to Young Children About Race and Racism (Videos, Articles, Children's Books, Activities, Resources, etc.), Source: PBS for Parents
Supporting Racial Equity in Schools
Unpacking the Mental Backpack (August 26, 2021)
Back Together Tips (scholastic.com)  Insights on how the pandemic impacted kids and how we can be ready to support them as a community (schools).  A resource that was developed with Scholastics and Director Dr. Linda Mayes.  
RULER: A systemic approach to social emotional learning (SEL) developed at the Yale Center for Emotional Intelligence. RULER aims to infuse the principles of emotional intelligence into the immune system of preK to 12 schools, informing how leaders lead, teachers teach, students learn, and families support students. https://www.ycei.org/ruler/
New Study Shows Just How Much Kids' Mental Health Has Suffered In The Pandemic: Anxiety and depression doubled among children around the world, according to an analysis. Mental Health Covid Study
Tip card for parents and caregivers who are supporting children during the COVID-19 pandemic, developed by the Childhood Violent Trauma Center at the Yale Child Study Center, Yale University School of Medicine.  This document serves as a tool for parents and caregivers to help them understand their child's experience during this pandemic, help them think from the child's perspective, and therefore how to better understand how to support children. (See Documents below)
COVID-19 Vaccinations (February 25, 2021)
For Information on COVID-19 in Connecticut: 
Connecticut's COVID-19 Response: https://portal.ct.gov/coronavirus
The CDC's Reccomendations: https://www.cdc.gov/
Charter Oak Health Center: http://thecharteroak.org/covid-19/
Saint Francis Hospital: https://www.trinityhealthofne.org/find-a-service-or-specialty/covid-19/schedule-your-vaccine
UCONN Health: https://health.uconn.edu/coronavirus/covid-vaccine/
Labor Trafficking (July 9, 2020)
Take this Survey to see how your daily buying power may be impacting the Slavery Footprint.
The 2019 Human Trafficking Hotline stats are now officially published on the NHTH website.  
The Now we Know video explaining the typology
The report Human Trafficking at Home: Labor Trafficking of Domestic Workers.
The report The Latino Face of Human Trafficking and Exploitation in the United States
The report On-Ramps, Intersections, and Exit Routes: A Road map for Systems and Industries to Prevent and Disrupt Human Trafficking.This report highlights the way industries can make fundamental shifts to their systems to prevent, detect, and disrupt human trafficking.
The report Human Trafficking on Temporary Work Visas: A Data Analysis 2015-2017. This report analyzes data from the National Human Trafficking Hotline and spotlights how human traffickers are weaponizing structural flaws within the temporary work visa system.
Blog with Essential Resources During the COVID-19 Pandemic.
Doulas 4 Connecticut Coalition (February 11, 2020)
YWCA Hartford Region and Doulas 4 Connecticut Coalition present a community conversation on Doula care and the benefits of maternal outcomes.
Earth's Natural Touch: Birth Care & Beyond on Instagram
These Doulas Are Delivering Support For Black Mothers | HuffPost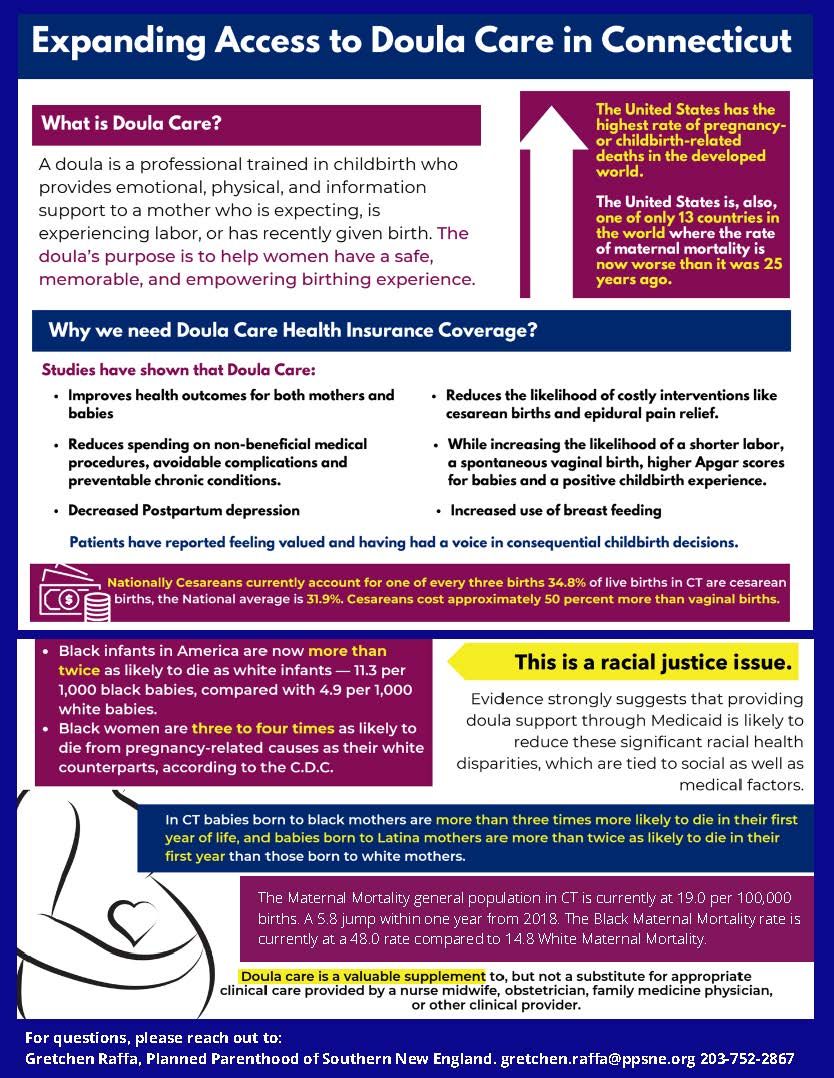 Breaking the Silence: The Impact of Human Trafficking on Girls of Color (September 30, 2019)
YWCA Hartford Region in partnership with United State of Women and The Village for Families and Children explores the impact of of human trafficking on girls of color and breaks the silence on this underground issue.
Participants:
Engaged in dialogue on how domestic human trafficking is effecting their communities
Explored scenarios that debunk the myths surrounding the issue and dismantle victim blaming
Learned about tools and resources available to equip communities to address human trafficking on a local level
A dynamic panel of experts shed light on the vulnerabilities of girls of color, the signs of human trafficking and so much more.  High school and middle school youth, their families and community supports attended and became informed on the issue because knowing that awareness is the first step in arming our communities to combat human trafficking.
A Critical Conversation with:
Yvette Young, Human Anti-Trafficking Response Team Coordinator, The Village for Families & Children
Erin Williamson, U.S. Programs Director Love146
O'Shaya Johnson, Coordinator of Women and Girls Programs, YWCA Hartford Region
Christopher Bidorini, Social Worker, Department of Children & Families, State of Connecticut
Moderated by Kristen Clark, Coordinator of Governor's Task Force on Justice for Abused Children, The Village for Families & Children
Disparity of Discipline for Girls of Color Part 2 (March 28, 2018)
A panel discussion about school push-out and the narrative surrounding status offenses and structural discrimination for young women of color and about steps towards solutions. 
Panelists featured:
Subira Gordon, Executive Director of the Commission on Equity and Opportunity
Mario Florez, Director of School Climate and Culture at Hartford Public Schools
Leon Smith, Esq., Director of The Racial Justice Project at the Center for Children's Advocacy
Cheryl Sharp, Esq., Deputy Director of The Commission on Human Rights and Opportunities
Moderator:
Jaleith Gary, Director of Philanthropy, Urban Alliance
PowerPoint created by Mario Florez
---
Disparity of Discipline for Girls of Color (January 24, 2018)
A panel discussion generating awareness of the gendered consequences of disciplinary and push-out policies for girls of color and how this leads to underachievement and criminalization. 

Panelists featured: 
Stephanie Milan, Associate Professor of Psychology at the UCONN Center for the Study of Culture, Health, and Human Development
Terrell Hill, Assistant Superintendent for Human Resources, Windsor Public Schools
Eboné Daire, High School Senior at Metropolitan Learning Center, Bloomfield
Jada Harrison,  High School Senior at Metropolitan Learning Center, Bloomfield

Moderator: 
Chion Wolf, producer and announcer, WNPR in Hartford, CT
Eduardo Bonilla-Silva's acclaimed Racism without Racists documents how, beneath our contemporary conversation about race, there lies a full-blown arsenal of arguments, phrases, and stories that whites use to account for—and ultimately justify—racial inequalities. The fifth edition of this provocative book makes clear that color blind racism is as insidious now as ever. It features new material on our current racial climate, including the Black Lives Matter movement; a significantly revised chapter that examines the Obama presidency, the 2016 election, and Trump's presidency; and a new chapter addressing what readers can do to confront racism—both personally and on a larger structural level.

In The American Non-Dilemma, sociologist Nancy DiTomaso convincingly argues that America's enduring racial divide is sustained more by whites' preferential treatment of members of their own social networks than by overt racial discrimination. Drawing on research from sociology, political science, history, and psychology, as well as her own interviews with a cross-section of non-Hispanic whites, DiTomaso provides a comprehensive examination of the persistence of racial inequality in the post-Civil Rights era and how it plays out in today's economic and political context.

Giving an overview of Connecticut public education at a glance, this state-run site provides accountability for school districts and administrators in each school district.

Co-developed by the Center for Intersectionality and Social Policy Studies and the African American Policy Forum

Girlhood Interrupted: The Erasure of Black Girls' Childhood
Created by Rebecca Epstein, Jamilia Blake, Thalia González
Center on Poverty and Inequality
Georgetown Law