Thank you to all those who attended our Allies Guide to Advocacy webinar on Friday, March 19th. We hope this session empowers you in your role as an ally in your community. We encourage you to use the information that was presented to confront racism. These materials may be used as a guide to challenge oppressive behaviors and structures, bring about cultural awareness, and promote diversity and inclusivity. It takes everyone to build an inclusive, equitable and just world.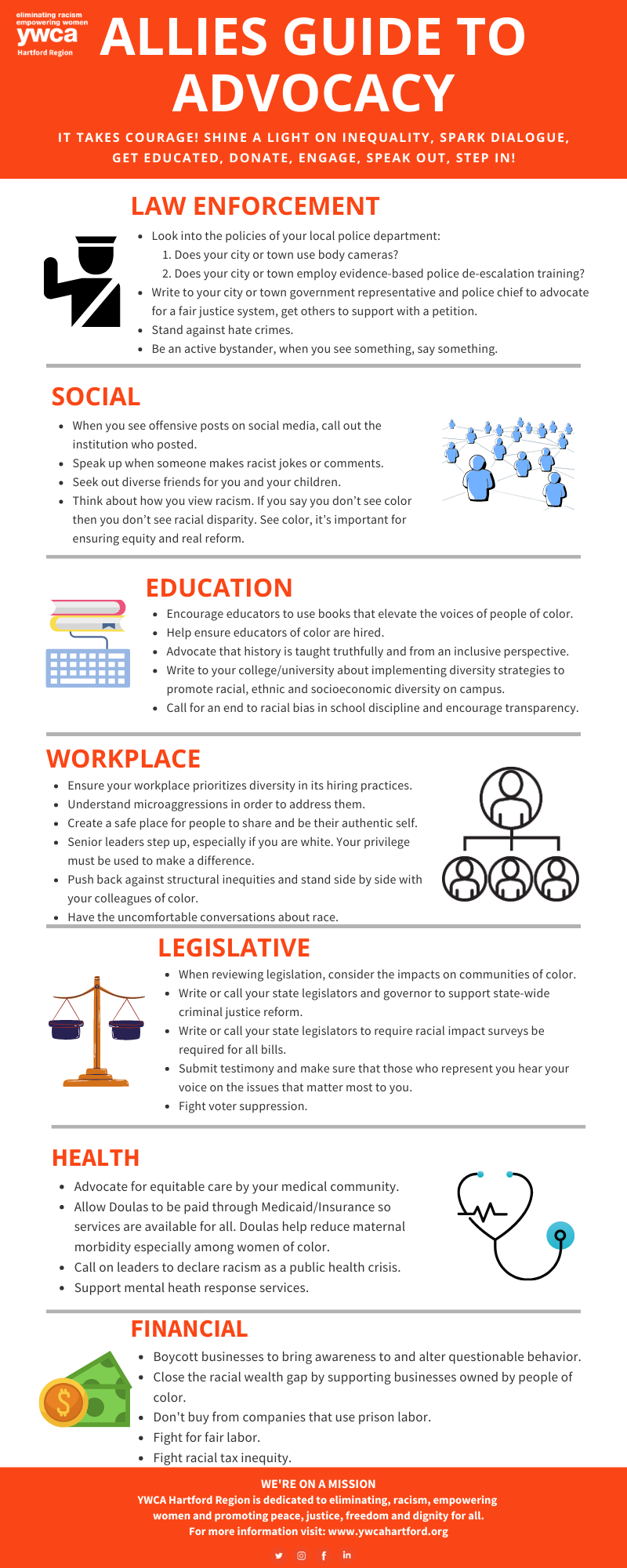 RESOURCE CORNER:
Websites and Articles:
Training for your Nonprofit Board to Confront Racial Inequity
10 Things We Know About Race and Policing in the U.S.
What Not To Say To Someone Who Has Experienced Racial Trauma
White Privilege: Unpacking the Invisible Knapsack
For Children:
PBS for Parents, Talking to Young Children about Race and Racism
Teaching Children about Racism Poster
Books:
Between the World and Me, Ta-Nehisi Coates
Caste: The Origins of Our Discontents, Isabel Wilkerson
Don't Touch My Hair, Emma Dabiri
Freedom Is A Constant Struggle, Angela Davis
How To Be An Antiracist, Ibram X. Kendi
Raising White Kids: Bringing Up Children in a Racially Unjust America, Jennifer Harvey
Black Feminist Thought, Patricia Hill Collins
Me and White Supremacy, Layla Saad
Raising Our Hands: How White Women Can Stop Avoiding Hard Conversations, Start Accepting Responsibility, and Find Our Place on the New Frontlines, Jenna Arnold
So You Want To Talk About Race, Ijeoma Oluo
The Warmth of Other Suns: The Epic Story of America's Great Migration, Isabel Wilkerson
The Condemnation of Blackness: Race, Crime and the Making of Modern Urban America, Khalil Gibran Muhammad
The New Jim Crow: Mass Incarceration in the Age of Color Blindness, Michelle Alexander
The Good Immigrant, Nikesh Shukla
White Fragility: Why It's So Hard for White People to Talk About Racism, Robin DiAngelo
Documentaries:
Dark Girls
Eyes on the Prize
Freedom Riders
I Am Not Your Negro
John Lewis: Good Trouble
More than a Month
Reconstruction: America After the Civil War
16 Shots
Slavery by Another Name
Soundtrack for a Revolution
The African Americans: Many Rivers to Cross
The 13th
The Black Power Mixtape 1967-1975
The Central Park Five
The House I Live In
The Kalief Browder Story
Downloadable Resources